Just like some other buildings on the Michaelshoeve, which are built in an unique anthroposophical style, the Ohana Center is a strikingly rustic orange colour. 
With inspiration and enthusiasm we have restored the building to its former glory and given the interior a serene retro look. Using Restore, Reuse and Recycle principles, we have kept the old furnishings intact as much as possible and lovingly added refreshing details.
Our vision is that the building and the garden exude a warm and welcome atmosphere, creating a comfortable and pleasant stay. We trust that you will relax in these surroundings, in order to allow you to truly meet yourself.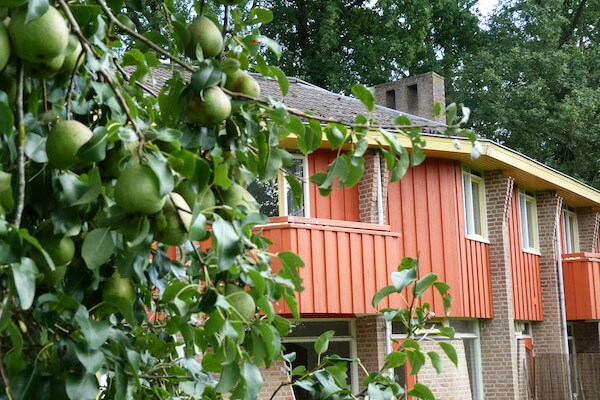 We have a wonderfully large garden at the back of the building with an unobstructed view over the countryside and a large old vegetable garden. We are located amongst the other buildings that make up this terrain and have placed yellow Ohana signs to help you to find us .
The Ohana Center is situated on a natural "power" spot. This means that, apart from any program or treatment you might follow, the place itself is working through you. It is different for everyone, but somehow transformation seems to be inevitable for those that surrender to the process.
Each meditation, attunement or healing you receive here will be twice as effective. Group processes are even more powerful; it can sometimes be a bit tough but it is always very meaningful and liberating! We would like to share the gifts of this place with as many people as possible.
We have a well on site, so the gardens here can be nourished with water from deep within the earth. We also use this water to fill the Hot Tub. It feels quite special to be in that unique, mineral-rich water. It really does have a beneficial effect. Water carries information and you are able to feel that.
We offer:
Workshop spaces
Treatment Rooms
Guest rooms for one and two persons
Dining room / living room
Hot Tub
Organic vegetarian cuisine
Expansive gardens for chilling, seasonal outdoor dining, relaxing and activities
A magical forest walking path